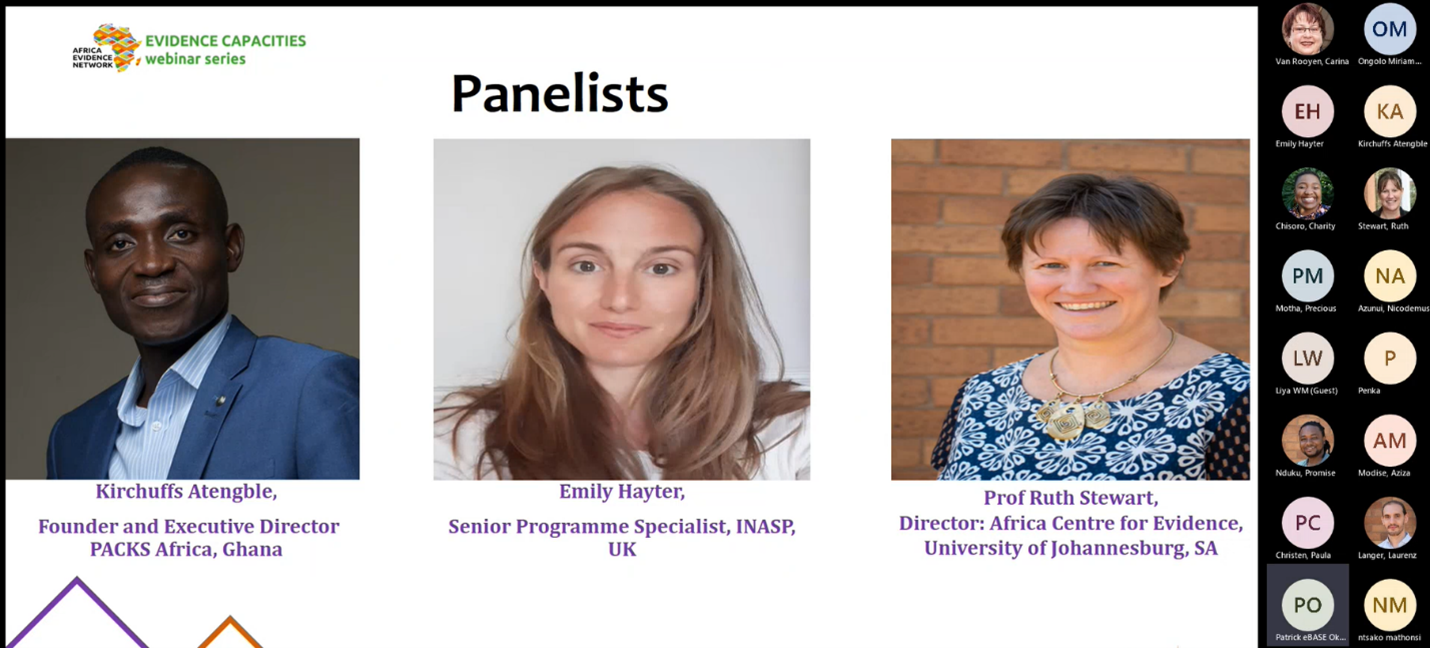 From left to right: Kirchuffs Atengble (PACKS Africa), Emily Hayter (INASP) and Ruth Stewart (ACE)

This blog post is based on the third webinar of the Evidence Capacities webinar series, hosted by the Africa Evidence Network (AEN) on 17 November 2021. The AEN Evidence Capacities webinar series aims to create a platform for sharing experiences and ideas that push our thinking about how we enhance capacities for evidence-use in Africa. The series also strives to enhance connections that can lead to collaborations among AEN members to strengthen evidence capacities using evidence- and practice-informed approaches. It is our hope that these discussions will be the basis for improving and illustrating the AEN's Manifesto on capacity development for evidence use in Africa. Be sure you catch up with the whole series; find all the recordings, blog posts, and presentations from past webinars in this series here.
One of the principles in the AEN's Manifesto specifically mentions structural changes:
"Our capacity development efforts are to address especially structural and value issues, and aim for sustainable change (rather than once-off initiatives not embedded in long-term strategies and plans). We address capacity development strategically, systematically, and structurally, on both the supply- and demand-side of evidence."
In its third instalment, the Evidence Capacities webinar series, therefore, focused on capacity development aimed at system-level change in or for evidence use. Under the guidance of moderator Patrick Okwen of eBase Africa, our three panellists – in Kirchuffs Atengble of PACKS Africa, Emily Hayter of the International Network for the Availability of Scientific Publications (INASP), and Ruth Stewart of the Partnership for Evidence and Equity in Responsive Social Systems (PEERSS) – led us in this discussion.
Addressing capacity development at system-level
To set the scene, the three panellists were invited to share what it means in their contexts to address capacity development at a system level. In his opening remarks, Kirchuffs Atengble referenced the evidence ecosystem and the importance of understanding the roles and interactions that happen between different actors in the ecosystem – from evidence users to evidence producers and intermediaries as well. Intermediaries especially play a vital role not only in facilitating ongoing interactions between users and producers but also in supporting constant learning and adaptation.
Emily Hayter indicated how for many years INASP has been working to address systematic inequalities between Northern and Southern research systems. In the process, their strategy has evolved to include inequities within and between research systems based on, for example, gender and regional discrepancies. An example of this is the Global Platforms for Equitable Knowledge Ecosystems (GPEKE) project that supports partnerships with the Uganda National Council for Science and Technology and the Ethiopian Academy of Sciences to address systemic (including gender) inequities within the national research systems. In this Emily actually linked our second webinar on designing for equity in EIDM capacity development with this webinar's focus on system-level capacity development. Secondly, Emily highlighted that system-level capacity development interventions have to recognise both the supply and demand sides of the systems. The AuthorAid Network is an example of supporting evidence producers, and applying the Context Matters framework has helped INASP to understand and support evidence users better. Emily lastly foregrounded how system-level capacity development has to recognise both the formal and informal elements of the evidence ecosystem. Her example is of the Data for Accountability project in Ghana where formal partnerships are facilitated by a host of informal cultural, behavioural, and political relationships.
Ruth Stewart in her opening remarks concurred with both panellists by stating that there are many systems operating within an evidence ecosystem and that the relations between these are complex. Through her experience in working with the government, as mainly an evidence provider, she has learned to be cautious about suggesting a change in the policy system without also thinking about the shifts required in all the other systems in the evidence ecosystem to ensure we reach our shared goal of increasing the use of evidence in decision-making. Ruth indicated how they learnt from UJ-BCURE about the need to move between the individual, team/organisation and system levels when we support capacities for evidence use. In one of their current activities at the Africa Centre for Evidence (ACE), they are foregrounding system-level change with their international partners in PEERSS, working as peers across 13 different countries and learning together.
Interventions and lessons on contextual changes at system-level
After their opening remarks, the panellists responded to one another. Working at the production side of the evidence ecosystem focusing on research uptake at the national level, PACKS Africa has found that it is necessary to go beyond the national level to the sub-national level. For instance, in Ghana local assemblies are set up and institutionalised to take over development at the community level. Therefore, capacity efforts within the ecosystem should not only focus on national-level interventions but also at a community level as this level also experience capacity constraints. Secondly, PACKS Africa has learned that local politics can overwrite what is done at the national level. Lastly, PACKS Africa seeks to develop a theory that is informed by the lessons learned from the field of capacity development, herewith reiterating a comment from Ruth about the need for the art and science of evidence use, including EIDM capacity development.
The role of allies and funders
As the conversation continued, Emily posed a question to fellow panellists about what role global and Northern allies can and should play in supporting capacity development for evidence use that is led from within Africa, such as through the Africa Evidence Network. For Kirchuffs global and Northern actors are important and should not be seen only as partners for funding or co-dependency but as crucial for shared learning exchanges between the North and South. Ruth added that understanding what parties bring to a partnership is very important. For her continuous engagement between the partners to listen and learn from one another is required.
As the moderator, Patrick encouraged the panellists to comment on the funding of EIDM capacity development in Africa. Ruth elaborated that funders are needed to support the work that is being done, but ideally, a funder should listen and reflect on where capacity support is most appropriate. Work of the AEN Manifesto, for example, is a result of a funder allowing the AEN Secretariat to listen and respond to its members, rather than telling the Secretariat what to do. In addition, Kirchuffs suggested the need for government agencies to do counterpart funding of EIDM capacity development activities, as they start to value evidence use more.
Emily reminded us that capacity development for evidence use does not always have funding, and can still continue. For example, the Kenya Parliamentary Caucus on Evidence-Informed Oversight and Decision-Making have no direct funding or financial incentives offered to parliamentarians to participate in the caucus. Mutual interest, commitment and drive for EIDM capacity development can achieve much already without first waiting for funding.
In conclusion, the panellists acknowledged that to achieve capacity development aimed at system-level change in/for evidence use require constant engagement across the evidence ecosystem, including between national and sub-national systems, and working together to understand the context to support needed evidence capacities.
Taking the conversation forward
A 75-minutes is so short to unpack and discuss all the matters related to system-level EIDM capacity development, but we have made a start. Let's continue the conversation asynchronous via the AEN's LinkedIn space. Here we offer some questions we should think of and respond to, but you're welcome to add your own:
What does EIDM capacity development aimed at system level mean for you?
Who is responsible for driving EIDM capacity development aimed at system-level changes?
What are the structural changes that EIDM capacity development aims at?

How do we measure that we have achieved EIDM structural/systems capacity development?

What are the capacities required for EIDM system-level change? Are these different from the capacities focused on at individual and team / organisational levels?
I would like to invite you to continue the conversation asynchronously via LinkedIn until the next evidence capacities webinar in our series, where you will get an opportunity to learn more about capacity development aimed at changing systems.
About the author: Precious Motha is a programme officer responsible for leading the Making Connections and Building Collaborations workstream at the Africa Evidence Network Secretariat, under the communities portfolio at the Africa Centre for Evidence.
Acknowledgements: The author(s) is solely responsible for the content of this article, including all errors or omissions; acknowledgements do not imply endorsement of the content. The author is grateful to Dr Carina van Rooyen, Siziwe Ngcwabe and Charity Chisoro for guidance in the preparation and finalisation of this article. The author would also like to thank Natalie Tannous for her editorial support.
Disclaimer: The views expressed in published blog posts, as well as any errors or omissions, are the sole responsibility of the author/s and do not represent the views of the Africa Evidence Network, its secretariat, advisory or reference groups, or its funders; nor does it imply endorsement by the afore-mentioned parties.
Suggested citation: Motha P (2021) Capacity development aimed at system-level change in/for evidence use in Africa. Blog posting on 07 Dec 2021 that is part of the AEN blog series on the Evidence Capacities webinar series. Available at: https://aen-website.azurewebsites.net/en/learning-space/article/114/