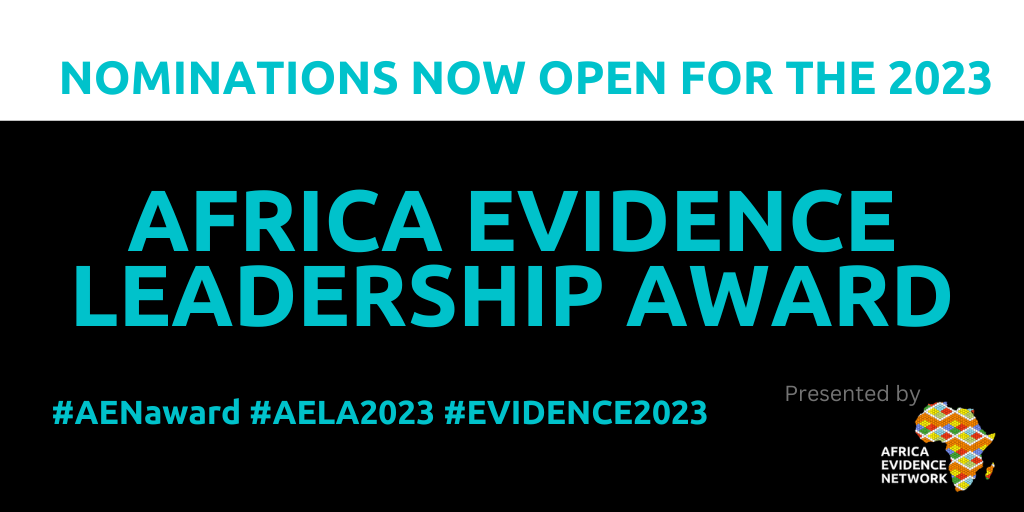 AFRICA EVIDENCE LEADERSHIP AWARD 2023: TERMS OF REFERENCE
OVERVIEW OF THE AFRICA EVIDENCE NETWORK
We believe that only together will evidence-informed decision-making (EIDM) become a reality in Africa. Over the last decade the Africa Evidence Network (AEN) has grown into a broad community of over 4,000 diverse people who share a vision to see an end to poverty and inequality in Africa. The Network's mission is to facilitate connections and collaborations to contribute to this vision by increasing EIDM together.
The Network is pan-African, open to all who live and work on the continent. It is unique in its inclusivity and diversity in six broad dimensions. It spans i) all countries in Africa; ii) all sectors across the Sustainable Development Goals; iii) all spheres, including government, academia, civil society, citizens, and all intermediaries; iv) the full diversity of roles within these spheres from members of parliaments to program managers to researchers; v) all elements of the evidence production and use cycle, from the generation of evidence to its integration into policy and implementation; and vi) all types of evidence from administrative data, to evaluations of all kinds, to experimental research, to citizen experiences and systematic syntheses of primary studies. Its strategic goals are to: foster collaboration among those engaged in or supporting EIDM in Africa, increase knowledge and understanding of EIDM, share capacities across the EIDM ecosystem, improve the enabling context by promoting EIDM in Africa, and advocate for Africa's full voice and participation in the national, regional, and global movements to increase EIDM.
WHAT IS AFRICA EVIDENCE LEADERSHIP AWARD (AELA)?
The Africa Evidence Leadership Award (AELA) is the Africa Evidence Network's (AEN) initiative that works on a nomination basis and is awarded annually. The award was established in 2018 by the AEN, with the threefold purpose of:
Increasing awareness of evidence-informed decision-making (EIDM) in Africa;
Raising the status of evidence amongst decision-makers in Africa; and
Showcasing the status of Africa in EIDM discussions by recognising impactful, insightful, effective, and/or innovative work that supports EIDM in Africa.
WHAT DOES THE AWARD CONSIST OF?
The award is provided as a virtual participation bursary should travel be restricted due to the pandemic and will be administered through the AEN secretariat who will coordinate with and pay event organisers directly. Award-winners will not be given any of the award directly. The recipient of the award will be required to sign a contract of more specific terms and conditions and will be an AEN brand ambassador.
The recipients of the award will receive:
A space in the biennial EVIDENCE programme to deliver a keynote address or alternatively be part of a panel discussion on their work
Up to USD500 grant contribution towards your participation in a high-profile course or event of your choice on EIDM [1]
A token of recognition presented at the next EVIDENCE virtual or in person event
WHO IS ELIGIBLE?
This award is a given to individuals[2] only. Only AEN members can nominate other AEN members to receive this award. To be eligible for the award, the nominee must:
Be a member of the AEN having joined the Network at minimum one year prior to their nomination,
Be able to demonstrate leadership in and an influential contribution to EIDM in Africa,
Work in any sector as long as they can motivate their participation in EIDM[3] as an evidence-user, evidence-producer, evidence-broker or any combination of these,
Provide proof of citizenship of and/or permanent residence in an African country (as defined by the United Nations),
Be available for the entire duration of EVIDENCE 2023, and must commit to giving a keynote address or alternatively be part of a panel discussion at the event, and
Be able to provide clear evidence of an exceptional contribution to EIDM.
WHAT ARE THE CATEGORIES?
Winners in the following 3 categories will be recognised: 1) Producers of evidence, 2), Evidence mediators (knowledge brokers or knowledge translators) and 3) Evidence users. Each category will have a winner and one runner up.
Category 1: Producers of evidence
AELA recognises outstanding individuals working as producers of evidence in the EIDM ecosystem. These individuals have contributed significantly to the generation of evidence from administrative data, evaluations of all kinds, experimental research, citizen experiences, and systematic syntheses of primary studies.
Category 2: Evidence mediators / knowledge brokers / knowledge translators
Secondly, AELA recognises outstanding individuals working as intermediaries also known as evidence mediator's or knowledge brokers or translators in the EIDM ecosystem. These individuals connect and facilitate the relationship between the production of research /those who produce it, and the use of research /those who use it. They enable the use of research-based evidence in decision-making[4].
Category 3: Evidence users
Lastly, AELA recognises outstanding individuals working as evidence users. These individuals have contributed significantly to the public policy sector through various ways such as awareness of evidence-based decision-making, the use of evidence in policy design and implementation.
WHAT IS THE NOMINATION PROCESS?
This award considers nominations only; no applications are taken into consideration for the Africa Evidence Leadership Award. Deadline for nominations is 31 March 2023. To submit a nomination, a nominator submits the 1) nomination form containing all supporting information AND the 2) confirmation form (completed by the nominee) to the AEN secretariat (via info@africaevidencenetwork.org) by 31 March 2023 23:59 SAST. All documentation should be emailed in PDF format to the AEN secretariat at info@africaevidencenetwork.org[5] with the subject line AEN AWARD NOMINATION.
Nominations in either English or French will be accepted. We can provide French translation of this guidance for applicants if required.
WHAT IS THE ASSESSMENT PROCESS?
After the submission deadline, the nominations will be reviewed by the AEN awards committee, and a list of shortlisted nominees will be prepared. Thereafter online profiles of shortlisted nominees (protecting the contact information of applicants; shared publicly only with their permission) will be shared via the AEN. Each AEN member will have one opportunity to vote for their preferred shortlisted nominee until 21 May 2023. The final shortlisted nominations will be considered by both governance structures of the AEN (Reference and Advisory Groups), with three award-winners and three runners-up being announced by 1 June 2023.
WHAT ARE THE ASSESSMENT CRITERIA?
The Africa Evidence Leadership Award seeks to recognise individuals who have demonstrated clear and enduring leadership in the field of EIDM on the African continent. The nomination must include evidence of the candidate's experience in this field, their influence in advancing EIDM in their contexts, and their relative reach. Examples could include strong advocacy for EIDM; introducing innovations in evidence production, brokering and/or use; enhancing structures for use of evidence for decision-making; creating enabling environments for EIDM; fostering collaborations to enhance EIDM; embedding EIDM into previously resistant environments etc.
Criteria for assessment therefore is not prescriptive but rather reflective of the unique career trajectories and EIDM activities of the candidate as per the nomination. The panel will look for evidence of knowledge, experience and leadership in assessing the submission for each candidate. These could include, but are not limited to, awards, distinctions, publications, policies, public engagement, sector reach and diversity, leadership roles (formal and informal) etc.
To enquire about the award or anything pertaining to the award, contact Hazel Zaranyika via info@africaevidencenetwork.org
#AELA2023 #AfricaLovesEvidence #EVIDENCE2023