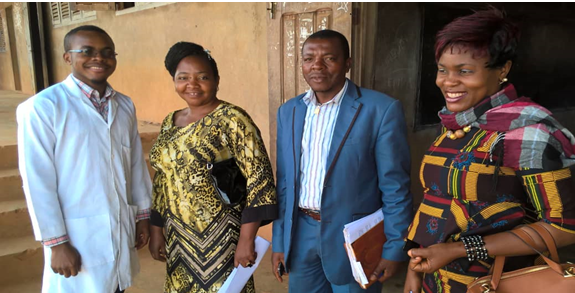 The Higher Teachers' Training College (HTTC) Bambili is one of Cameroon's standard institutions for higher learning, created mainly to train teachers teaching secondary and high school students. This institution was created in Bambili, Tubah-Sub Division in Mezam, North West Region in 1967, by a Ministerial Decision no. 38, as an annex to the Advanced Teachers' Training College, (E.N.S) Yaounde (Cameroon). As the case of any training institution offering Teacher Education Program, the ultimate goal is obviously to promote learning and prepare student teachers with better instructional principles, methods, and administrative strategies to manage real life challenges. This ultimate goal of promoting lifelong learning has never changed in the field of education as well as in the Department of Philosophy in that institution, even though history holds it that; there is a continuum in paradigm shifts from traditional pedagogy to new and more evidenced-based pedagogies. In this department, efforts to improve teaching learning transaction through student teachers have never stopped. But the big question is; what does evidence say about these evolutionary efforts? Numerous decisions spring up daily and implementations following suit for the training of pre-service teachers, are we certain these decisions are validated by worthy evidences? Can we actually say our "so called" policies on better instructional principles, methods, and administrative strategies are backed by best research practices?
These questions and more are key questions needed to be reconsidered by all educational stakeholders especially policy makers when thinking about the improving the lives of these students.
Learning about the Evidence Informed Decision Making process from eBASE-Africa and AEN, provokes this author as a policy maker in the field of pedagogy, to reflect on whether or not existing policies as well as practices are guided by the use of research and evidence. With preliminary findings this far, the temptation is to jump into conclusion that there exists a huge gap between research evidence about pre-service teachers' training as opposed to post training field practices. Little research conducted so far shows that the whole idea about evidence secured decision making is new, not mastered or neglected; irrespective of whether this is from top-bottom or bottom-top. If this information is true, then researchers and policy makers most get back to the drawing board to redefine strategies that will boost best practices. They particularly must work hard to address these situations no matter the difficulties on the terrain. The way forward is to replace feeble and dubitable policies with more evidenced-based and safe ones. With uncertainties looming around our educational setting and with local experiences, it is quite obvious that this training school has a long way to go to embrace, advocate and implement evidence-based policies. This blog post is just a call for reflection to voice out that educational researchers must liaise with policy makers to advocate for and bring evidence back into policies; this, especially in our training schools.
At every level, Inspectors of pedagogy, researchers, the school administrators, lecturers of this most cherished institution should learn to embrace and advocate best practices to improve on teaching learning outcomes. Significant decisions should be made, informed by the best research and evidence. For where this is absent, there exist a vacuum. When decision makers lack the resources to examine and evaluate policy proposals, they end up with information which is biased, cooked or prejudiced. This definitely is not good for the growth of such a training institutions with excellent goals designed to equip student teachers with lifelong skills. Generally, most policy makers lack the time or staff to dig through issues within their jurisdiction. This poor habit could be blamed on bad faith, corrupt mindsets, laziness as well as other coordination related efforts to recruit local research experts to contribute their quota to development. Now is the time for positive and concrete change to take place. Thankfully eBASE-Africa and AEN are working very hard to bring this change in every sector. eBASE-Africa has done a lot in the spheres of advocacy and evidenced-based implementation by translating evidence research into practice to improve on basic services in Cameroon. Transforming how Pedagogic Inspectors, school administrators, teacher trainers, and lecturers of this institution work will change policies and implementation strategies.
We will be delighted to gain more practical insights about evidence-based advocacies and practices.
The views expressed in published blog posts, as well as any errors or omissions, are the sole responsibility of the author/s and do not represent the views of the Africa Evidence Network, its secretariat, advisory or reference groups, or its funders; nor does it imply endorsement by the afore-mentioned parties.