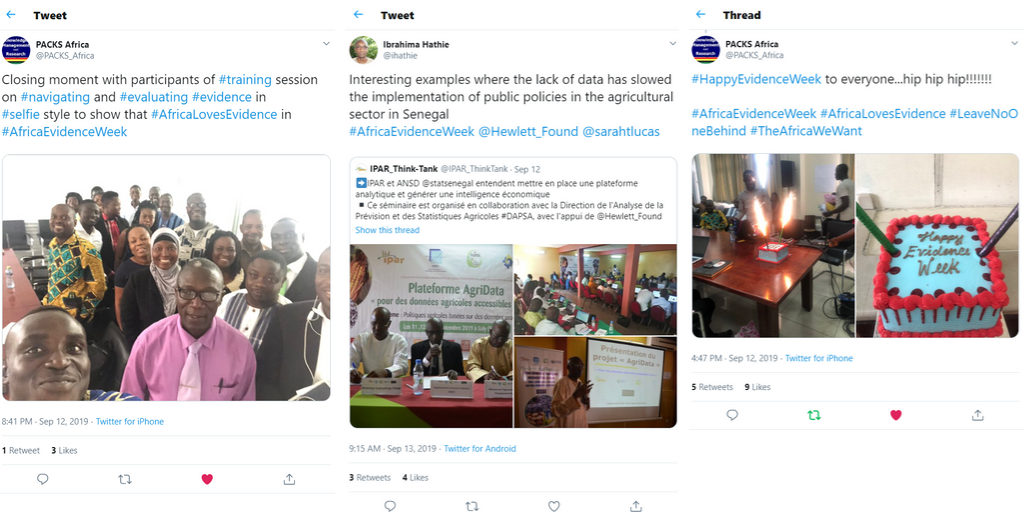 My colleagues and I on the secretariat of the AEN are overwhelmed by the festivities from all across Africa during Africa Evidence Week. We are proud of (but not surprised by!) the wealth of evidence-informed decision-making (EIDM) expertise in Africa, and we are humbled by the dedication to and passion for EIDM of our brothers and sisters within Africa. To all our participating organisations, and to everyone who joined the conversation, YOU are what made Africa Evidence Week so incredible.
DAY ONE
DAY TWO
DAY THREE
DAY FOUR
DAY FIVE
The celebration of Africa's EIDM will not end - we are taking these conversations and the spirit of #AfricaEvidenceWeek forward. So join the conversation #BeyondAfricaEvidenceWeek as we journey towards our next big event, #Evidence2020, together.
The views expressed in published blog posts, as well as any errors or omissions, are the sole responsibility of the author/s and do not represent the views of the Africa Evidence Network, its secretariat, advisory or reference groups, or its funders; nor does it imply endorsement by the afore-mentioned parties.