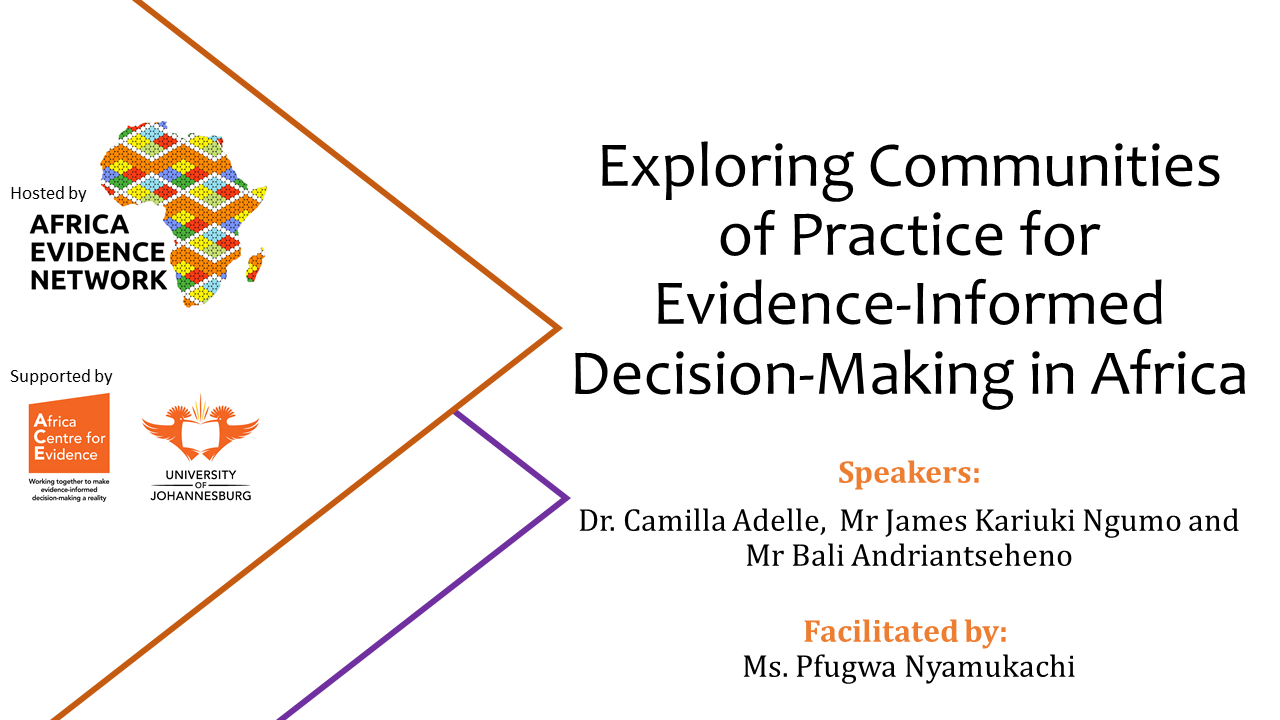 If you are interested in this topic, review the webinar presentation, read more in the blog post, or watch the recorded webinar.
On 4 September 2020, the Africa Evidence Network hosted the #AfricaEvidenceWebinar entitled: "Exploring communities of practice for evidence-informed decision-making in Africa." This webinar is one of the pre-activities of EVIDENCE 2020 ONLINE for the Making Connections and Building Collaborations work stream.
Our speakers shared from their experiences what it takes to successfully establish and maintain communities of practice. Our speakers were:
1. Dr Camilla Adelle, a senior research fellow at the Centre for the Study of Governance Innovation and the DST-NRF Centre of Excellence in Food Security, University of Pretoria, South Africa.
2. Mr James Kariuki Ngumo, a senior research scientist at the Kenya Medical Research Institute, Kenya.
3. Mr Bali Andriantseheno, a regional representative at the African Evaluation Association (AfrEA).
We explored a number of questions related to communities of practice, including:
1. In your experience, what are the key characteristics/features necessary for sustainable communities of practice?
2. What are the risks and opportunities of establishing communities of practice within networks' for evidence-informed decision-making?
3. How do you sustain a community of practice?
As part of the build-up to EVIDENCE 2020 ONLINE, we were excited to welcome all the participants to the conversation.