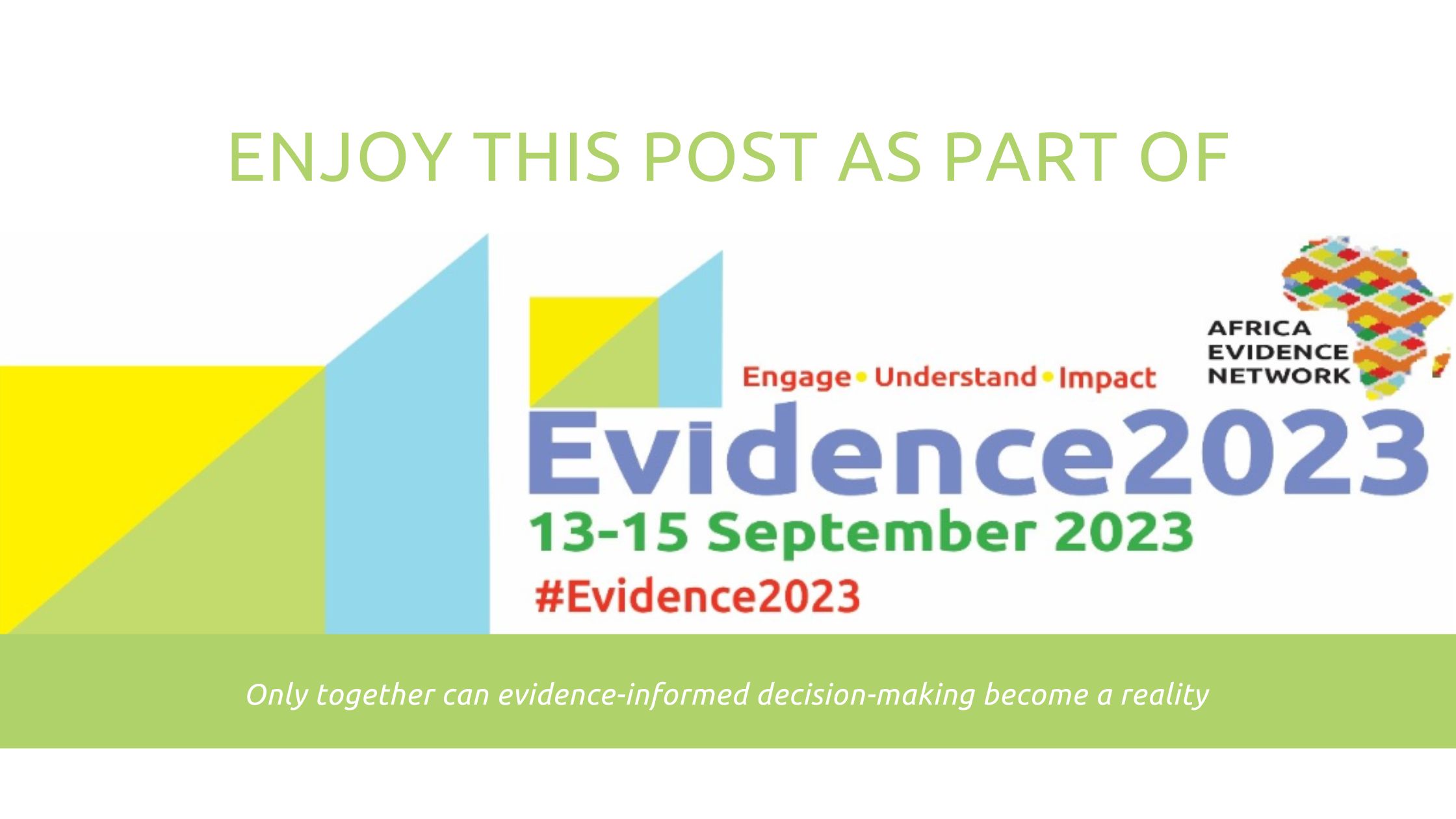 Background and rationale: Non-governmental organizations (NGOs) have made significant contributions in the development sectors of low-and-middle-income countries for decades post-independence. During this tenure, their work has generated local knowledge and lessons learnt on what interventions have or have not worked well. However, little of this knowledge is publicly accessible to foster a culture of evidence sharing for cross-learning within the social development community, especially in Africa. Further, there is limited evidence on the perceptions, prevailing cultures, facilitators, and barriers to evidence sharing by NGOs in Africa.
Studies1 carried out in Southern, Eastern and Western parts of Africa exploring the ecosystems for evidence generation and use revealed that research and evaluations were conducted primarily to satisfy funders' requirements, and that findings were rarely used for learning, to inform policies or practices.
Study aim: The study aims to investigate perceptions and prevailing cultures of NGO actors on information sharing and identify the facilitators and barriers to this.
Methodology: The study will be carried out in Kenya, Uganda, South Africa and Burkina Faso. It will employ mixed methods to collect qualitative and quantitative data that will be analyzed and triangulated for interpretation. Qualitative methods will consist of desk review of relevant documents and in-depth interviews with NGO representatives to facilitate understanding of what evidence is and factors influencing sharing it. Quantitative methods will comprise a cross-sectional survey to net a wider set of responses that will facilitate quantification and comparison of the issues identified.
Expected results and benefits: The results of the study are expected to deepen insights on the evidence ecosystem in Africa and how NGOs can embrace evidence and foster the culture of evidence-sharing for cross-learning in the social development community. This could potentially facilitate efficient use of the scarce resources available for development.
Key words: Evidence; NGOs; Africa
Acknowledgements: The author(s) is solely responsible for the content of this article, including all errors or omissions; acknowledgements do not imply endorsement of the content. The author is grateful to Siziwe Ngcwabe, the content committee and the Africa Evidence Network team for their guidance in the preparation and finalisation of this article as well as their editorial support.
Disclaimer: The views expressed in published articles, as well as any errors or omissions, are the sole responsibility of the author/s and do not represent the views of the Africa Evidence Network, its secretariat, advisory or reference groups, or its funders; nor does it imply endorsement by the afore-mentioned parties. We hope you enjoyed this blog teaser. Be sure to watch our newsletter for when the full blog post is published after Evidence 2023.
1 Development Initiatives (2016) https://devinit.org/wp-content/uploads/2016/01/Humanitarian-evidence-systemsmapping-in-East-Africa_Feb2016.pdf