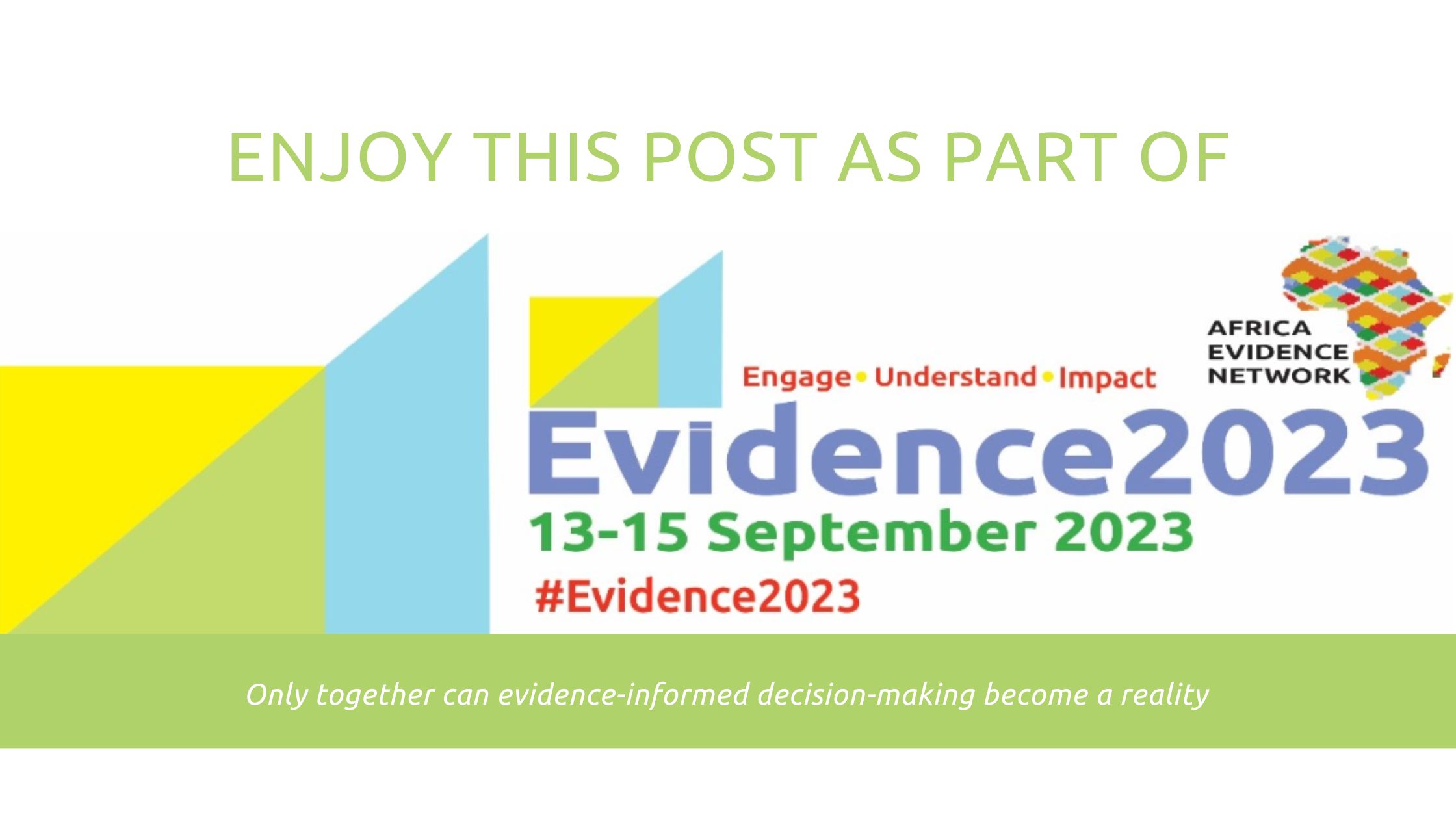 Background
The Latin American and Caribbean Evidence Hub (Hub LAC) was created in 2022 to promote transnational and interdisciplinary collaboration for the institutionalization of evidence-informed decision-making in the Latin American and Caribbean region. From the outset we knew that such an ambitious endeavor needed focus to be sustainable. It was also clear that there were, on the one hand, a welter of social challenges to tackle, barriers to overcome, but also successful experiences to celebrate. But that only begged the question: with some many challenges, barriers and experiences to cover, on which should we concentrate our efforts? Seeking to answer this question, we turned for aid to the concept of evidence ecosystems and applied to the analysis of 3 LAC countries: Brazil, Chile and Colombia.
An evidence ecosystem can be defined as "a system reflecting the formal and informal linkages and interactions between different actors (and their capacities and resources) involved in the production, translation, and use of evidence" (Stewart et al., 2019). This concept and the closely related notion of "evidence climate" have been fruitfully applied by Stewart et al. (2019) and Ongolo-Zogo et al. (2014), to shed light on the factors that hinder the growth or nurture a vigorous evidence ecosystem. From our standpoint at the Latin American and Caribbean Evidence Hub (Hub LAC), this is precisely the type of insight we need to underpin our efforts of collective priority-setting and connection.
Furthermore, we are driven by the need to fill a gap of updated information regarding evidence ecosystems in LAC, and to do so in a standardized way that supports comparability and benchmarking. In fact, the relationships between actors and organizations involved in evidence informed policymaking (EIPM) in our countries have not been properly "diagnosed". Our limited understanding of the challenges we face in the EIPM field hampers priority-setting, while our scant knowledge of existing EIPM achievements offers us little support for promoting the exchange of best practices and celebrating ongoing efforts.
In this text, we would like to share our experiences and learnings regarding the development of the three pilots of national EE reports in our LAC region (Brazil, Chile, and Colombia). We are also convinced that the LAC region has enormous potential to build a strong "network of networks" that will foster the institutionalization of EIP and then systematically and transparently use the best available evidence to inform decisions in our region.
Methods
To understand the EE in LAC context, specifically in the three mentioned countries, the first step was to agree on a standardized procedure for writing an EE country report within Hub LAC.
The first step was to review 3 key documents regarding EE as a starting point, namely the WHO Europe Situational Analysis, 2017, as well as the aforementioned works of Ongolo-Zogo et al., 2015; Stewart et al., 2019 on EE in African countries. These readings were recommended by EIPM and Knowledge Translation experts who were either part of, or close to the Hub's Board of Directors.
We then developed and adapted a manual to conduct three pilot country reports. Adaptation was needed on two fronts: first, to cover areas outside the healthcare sector and, second, to ensure that the research was feasible for a newly formed team of researchers, working remotely, and who might not have had experiences in the countries under study. Three main areas were prioritized: health, education, and public safety. Information was drawn from secondary sources, such as websites and government reports, newspapers, and academic papers. The search was conducted by our research team, divided into mini groups per country and led by a researcher native from that country, i.e. from Brazil, Chile or Colombia.
The three pilots were developed and validated internally. After being read by our team, some changes were done, and new topics were included in the report. Those reports were subsequently summarized in short versions. The summary reports and the manual are being externally validated for fine-tuning.
Results:
Summaries of key findings by country are listed below:
Brazil:
Brazil is perhaps one of the countries in the region with the greatest development in the generation, translation and use of evidence for decision making.

Different degrees of maturity were found among the health, education and public safety sectors, with the health sector being the most robust in terms of institutions, production, availability and access to information as well as organizations working in this field.
It was possible to identify that Brazil participates in international networks for collaboration and access to funding for actions in the field of evidence informed policies (EIP). Likewise, it has national and local institutions with great trajectory that have conferred resilience to the country's evidence ecosystem, particularly at the national level. Some federal institutions such as IPEA and ENAP, as well as private sector foundations and NGOs/Civil Society Organizations stand out as major nodes of the ecosystem.

The creation of alliances and coalitions is considered an action with enormous potential to promote the use of EIPs in the country and an example for the region.

Challenges associated with institutionalizing the use of evidence to inform decision making were identified in the 3 sectors studied.
Chile:
Chile has made considerable progress in terms of EIP ecosystem. An example of this is the internalization of the use of evidence to inform decisions at the governmental level. This makes the southern country a great opportunity to consolidate and expand its experience and knowledge on EIP to other countries and the region.

National agencies such as the Department of Health Technology Assessment and Evidence-Based Health (ETESA/SBE) at the Ministry of Health, the Centro de Estudios Mineduc (CEM) at the Ministry of Education and the "SENDA Academy" (of the National Service for the Prevention and Rehabilitation of Drug and Alcohol Consumption) of the Ministry of the Interior and Public Safety, have been working and gaining experience in the area of EIP. This state-led institutionalization appears to be consistent with Chile's high degree of "stateness" and professionalization in the public sector. As in Brazil, there is still a considerable capacity gap between the national and the local.

These agencies, in liaison with the academic sector, contribute to collaborative work between knowledge producers and users.

The challenges identified are associated with the lack of specific and explicit funding for EIP, intra- and inter-agency communication, and the generation of networks that promote EIP at different levels and spheres of government.
Colombia
In Colombia, producing evidence is crucial for the success of government programs. However, there are obstacles that hinder its effective use, such as the fragmentation of evidence production, the lack of technical and financial resources, the absence of a culture of evidence and communication problems.

Research receives funding from public and private institutions and has laws and regulations governing it. There are several institutions and organizations that generate internal evidence to inform policy, such as university research centers, private research centers, Think Tanks and NGOs.

The quality of evidence is assessed by peer review, publication in high quality scientific journals and peer review.

It is proposed to strengthen collaboration and coordination between organizations, increase technical and financial capacity, and establish effective channels of communication between producers and users of evidence.
Conclusions
Evidence ecosystems in LAC countries need to be further explored. To date, we lack a standardized theoretical framework or a manual for conducting country reports in our region, so comparability between reports is scarce or unfeasible. This scenario motivates us to work in a standardized way to conduct country reports in the LAC region. Likewise, there are no previous experiences like this and then, there is a shortage of similar studies.
Brazil, Chile and Colombia have different degrees of EIPM maturation. According to our findings, the most developed sector is health (in the three countries). In all the countries EIPM has participation in government, academia and civil society, but not always has been institutionalized nor have explicit or specific legislation or funds to be sustainable.
External validation will be tremendously important to adjust and improve both the manual and the current developed reports, understanding that those are "living documents" and both are open to changes.
Understanding and knowing the EE in our region is very important to identify challenges, opportunities and success stories to contribute to the institutionalization of EIP and to a decision making informed for the best evidence available.
Acknowledgements: The author(s) is solely responsible for the content of this article, including all errors or omissions; acknowledgements do not imply endorsement of the content. The author is grateful to Siziwe Ngcwabe and the Africa Evidence Network team for their guidance in the preparation and finalisation of this article as well as their editorial support. 
Disclaimer:  The views expressed in published blog posts, as well as any errors or omissions, are the sole responsibility of the author/s and do not represent the views of the Africa Evidence Network, its secretariat, advisory or reference groups, or its funders; nor does it imply endorsement by the afore-mentioned parties.